Brexit: EU citizens applying to stay permanently in UK will be left in limbo for a decade, warns report.
'The current process for dealing with permanent residence applications from EU nationals is not fit for purpose'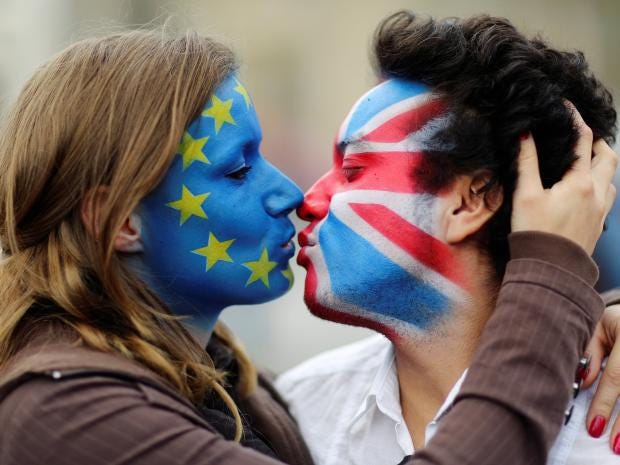 Some EU citizens applying to stay permanently in Britain after Brexit will be left in limbo for a decade because the system is broken, a damning report warns today.
It will take around 11 years to process millions of expected residency requests from worried EU nationals at the Home Office's current workrate, it reveals. Just 135,000 decisions were made last year.
The Government is urged to "introduce a streamlined process" without delay to ease the plight of people who – Brexit Secretary David Davis has admitted – are "suffering anxiety".
May accused of wanting EU citizens 'to leave the country'
The call comes from the respected Institute for Government (IfG), which has also warned that Theresa May's hopes of an early end to free movement of EU citizens will be dashed.
A new immigration system cannot be ready for several years, forcing the Government to keep the current rules to avoid what business leaders fear will be "a bureaucratic nightmare".
Any delay is potentially embarrassing for the Prime Minister, who has made regaining "control of our borders" her "red line" in the Brexit negotiations about to begin.
But the IfG, in a detailed study, has warned it is "unfeasible" to create a new immigration system by the time Britain leaves the EU by April 2019, despite Tory promises of an early Bill.
It warns against the disruption to employers from making temporary changes, adding: "That means free movement will have to continue post-Brexit until the new regime is ready to go live."
Crucially, the report also says the new Government "must clarify the rights and entitlements of EU nationals living in the UK and provide them with documentation".
It points out that 2m of the 3m EU nationals in the UK can already apply for residency – having lived here for five years – with many of the remaining 1m qualifying by 2019.
Around 55,000 work in the NHS – a number that is growing. In 2015-16, EU migrants made up 32 per cent of badly-needed new nurses and midwives.
The IfG noted: "To process all EU nationals currently eligible for permanent residence by March 2019, the Home Office would need to make roughly 3,600 decisions per day; it is currently making about 650 decisions per day."
The calculation implies that, on current trends, it will take around 11 years to process the claims – with just two years to go until Britain is due to leave the EU.
It was seized on by Liberal Democrat leader Tim Farron who said ministers had "shamelessly continued to bury their heads in the sand".
"Millions of EU citizens who have made their homes in the UK now find themselves having to apply for permanent residency, and the Home Office simply cannot keep up.
"The process must be urgently simplified or expedited for these people to have any hope of having their applications through by 2019."
And Dutch MEP Sophie in 't Veld said the EU was determined, in the Brexit talks, to ensure Britain did not "penalise innocent people who settled down in the UK in good faith and are contributing to British society".
"Brexiteers clearly stated during the referendum campaign that the acquired rights of EU citizens in the UK would be protected by international law –  this was a total fabrication," she said.
"We will seek guarantees to ensure EU nationals in the UK are issued with residence documents under a simple and swift procedure, before discussions on a future trade agreement can be opened."
The IfG said an army of 5,000 extra Home Office staff would be required to process applications under the current tortuous system, on top of 140 already recruited.
"The current process for dealing with permanent residence applications from EU nationals is not fit for purpose," said Jill Rutter, the IfG Brexit programme director.
Britain has refused to grant the 3m EU nationals in the UK the right to remain and work after Brexit until the 1.1m British ex-pats in the EU are given the same guarantee.
Ms May then heightened their fears by insisting she was happy to walk away from the EU with "no deal" if necessary – which would include no agreement over ex-pats' rights.
Meanwhile, the Home Office has been fiercely criticised for the huge bureaucracy involved in applying for permanent residence, making the form a staggering 85 pages long.
Some EU nationals have been rejected on the basis that they did not take out comprehensive sickness insurance – when the requirement was barely known.
The Institute of Directors backed the call for free movement to continue for "a few years", to multiple changes in the rules.
European Parliament to block Brexit deal unless EU citizens can stay
"That would create a bureaucratic nightmare for recruiters, especially smaller firms," said Seamus Nevin, its head of employment and skills policy.
The IfG also warned of the danger of the next Government copying the immigration system for non-EU migration, which shuts out lower-skilled workers.
That would "rule out over 50 per cent of the UK's current physiotherapists, midwives, lab technicians, farmers, butchers, mechanics, plumbers and carpenters".
Re-posted from the Independent.